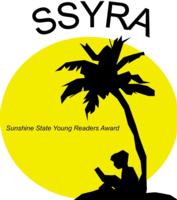 The Sunshine State Young Reader's Award (SSYRA) Program is a state wide reading motivation program for students in grades 3-5. The program, cosponsored by the School Library Media Services Office of the Department of Education and the Florida Association for Media in Education (FAME), began in 1983. The purpose of the SSYRA is to encourage student to read independently for personal satisfaction, based on interest rather than reading level. Sunshine State books are selected for their wide appeal, literary value, varied genres, curriculum connections, and/or multicultural representation. Students are encouraged to read these books in order to develop their reading fluency.
Two hundred children read at least SIX of the SSYRA titles for 2014-2015 and were eligible to vote for their favorite title. The Lee County Supervisor of Elections was on hand with official ballots and their ScanTron machine.
This year, the SSYRA Election Party will be held on Friday, April 12, 2019 at 2:00 p.m. in the Oasis Elementary Café. Lee County Supervisor of Election will bring the official ballot.
The Eighth Annual Oasis Elementary Battle for the Books is scheduled for Tuesday, April 30 at 6:00 p.m. at the Cape Coral Yacht Club.
Lee County Book Battle will be held on Friday, May 24, 2019, at the Lee County Administration Building in Fort Myers. Registration and Pictures will be at 8:00 a.m. The Battle begins at 9:00 a.m. Oasis will be sending one team to the County Battle.
Important Notice Regarding the Lee County Book Battle
Dear Parents of a Third, Fourth or Fifth Grader,
Lee County requires a photo and video release for all team members who represent a school during the Lee County Book Battle. The county Battle will be livestreamed and then posted on YouTube.

Oasis Elementary will send the winning Battle of the Books Team to the county competition schedueld for Friday, May 24, 2019.
If you have questions, please feel free to email me at [email protected].